Enhancing the Whitehouse
&

Bluefields Solid Waste Reduction Project in Jamaica
Overview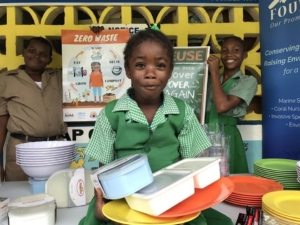 In partnership with the Sandals Foundation, this project focused on enhancing the Whitehouse & Bluefields Solid Waste Reduction Project through the institution of a waste management system upgrade in Bluefields, implementing sustainable meals in schools, improving plastic waste storage and transportation, facilitating the start-up of a sustainable compost business startup, and development of a video case study of the project. The project focused on education and provided residents along the south coast of Jamaica with a structure for better solid waste management through effective waste separation. This project ultimately aims to use the strategy of waste separation and waste diversion to reduce and prevent pollution on both land and sea. This built on a previous project under the US Environmental Protection Agency (EPA) Trash Free International Programme implemented in partnership with UNEP CEP.
Project coordinator: Bianca Young, Sandals Foundation
Launching the Caribbean Clean Seas Campaign
Overview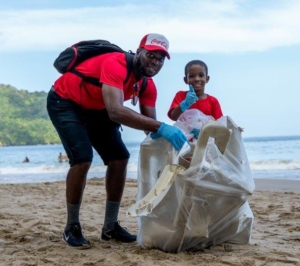 This project focused on enhancing the work of the GPML-Caribe through the design and launch of a Regional Clean Seas Campaign that formed an integral part of the International Coastal Cleanup (ICC) 2019 regional campaign and supported UNEP's Global Clean Seas Campaign launched in 2017. Additionally, the node developed communication materials to adopt and implement the Clean Seas Campaign in the Wider Caribbean Region, and field tested the aforementioned standardized hybrid approach to monitoring marine litter on beaches. The ongoing overall aim of the project is to increase engagement and awareness of the general public, private sector, and government in the fight against marine plastic pollution The Caribbean Youth Environment Network (CYEN) Chapters in Barbados, Grenada, St Kitts and Nevis, St Vincent and the Grenadines and Trinidad and Tobago helped facilitate this project. CYEN is a regional organisation that aims to promote and em­power youth to take positive action on issues related to the environment and sustainable development.
Project coordinator: Reginald Burke, Caribbean Youth Environment Network
Developing a harmonized approach to marine litter monitoring in the Caribbean
Objective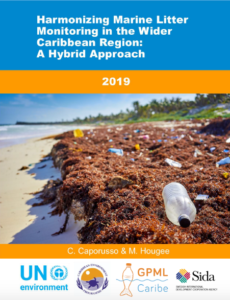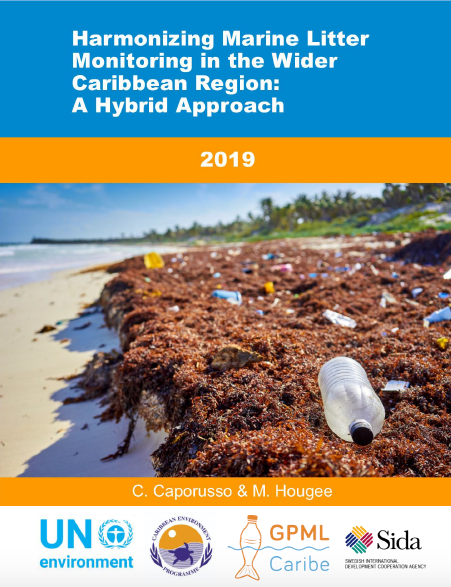 In October 2018, GPML-Caribe hosted a workshop in Miami focused on harmonizing litter monitoring in the WCR. The workshop was a direct result from a commitment made by the OSPAR Commission and the Cartagena Convention Secretariat (UNEP CEP) at a United Nations (UN) Conference held in New York in June 2017, about the implementation of Sustainable Development Goal 14. As a result of this workshop, the Node hired consultants to develop the report "Harmonizing Marine Litter Monitoring in the Wider Caribbean Region: A Hybrid Approach" which was published in 2019. This study compared three initiatives in the Caribbean region and the OSPAR marine litter monitoring methodology against a set of predetermined criteria. Findings from this research also helped to contribute to the development of a monitoring scheme for marine litter in the WCR, with a focus on monitoring visible marine litter on the shoreline – litter that derives from rivers, ocean currents, waves and wind, or discarded by tourists. This report aims to assess leading initiatives and provide recommendations to policymakers and experts in the WCR on how best to monitor marine litter to achieve scientific and policy objectives. This project has since been successfully piloted and implemented by Clean Seas Bonaire and we aim to partner with the Caribbean Youth Environment Network (CYEN) to implement in the Caribbean islands
Project coordinator: Carolyn Caporusso, Clean Coast Bonaire
Piloting marine litter reduction strategies for major Caribbean events- Carnival in Trinidad and Tobago
Overview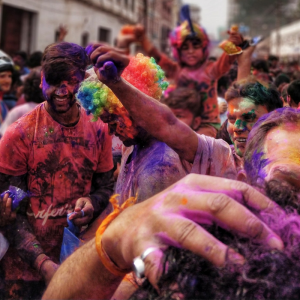 To help bring about a reduction in marine litter associated with activities during Carnival in Port of Spain, Trinidad utilizing on-land reduction strategies. We hope that this will serve as a pilot project to share with other landmark Caribbean cultural/musical/sporting events that already show interest in achieving greater sustainability, environmental or social responsibility, such as Rebel Salute reggae concert Jamaica, Saint Lucia Jazz Festival, Bequia Blues, sailing regattas like Mount Gay Barbados or Antigua Classics, test or T20 cricket matches, or landmark fisheries/tourism sites like Oistins fish market in Barbados.
Project coordinator: Nakita Poon Kong, IAMovement
The Occurrence of Micro-Plastic in the Intestinal Tract of Commercially Exploited Fish from Grenada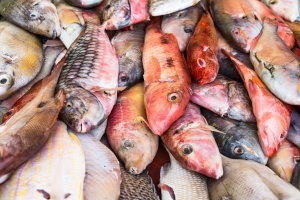 Overview
In collaboration with St George's University in Grenada, this study was able to document microplastics in fish species from Grenada.
The specific objectives are: i) to document the occurrence of microplastics in intestinal tract of up to 6 different fish species; and ii) compare the type, colour, size and amount of microplastics found among species.
Occurrence of microplastics in the intestinal tracts of marine fish is a concern to human and ecosystem health as pollutants and pathogens can associate with plastics. Over 97% of the fish examined in this study contained microplastics. There are plans to extended the study in order to assess sediments, water samples (including bottled water) and other fish products consumed in Grenada.
Project coordinator: Dr. Clare Morrall, WINDREF Research Fellow, St. George' University, Grenada, West Indies
Links Between Marine Litter and the Prevalence of Mosquito-Borne Public Health Concerns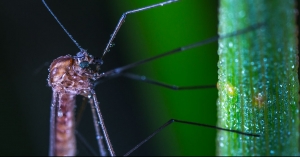 Overview
This study mapped the incidence of mosquito borne public health concerns in the Caribbean to compare this with plastics consumption and to put the findings into the context of the zika virus. Puerto Rico was used to examine this relationship because the marine litter data was extensive and robust. By overlaying GIS data the study was able to investigate potential correlations and analyse various environmental, health, and demographic data to evaluate issues of poverty and gender as they may be related to incidence of disease and risk. This study revealed that there was a relationship between the cases of ZikV and marine debris density, especially of large marine debris (i.e. tires). These results also suggest that coastal communities may want to prioritize clean up of large marine debris to limit the habitat for Aedes aegypti and subsequent transmission of ZikV and other mosquito borne illnesses.
Project coordinator: Seann D. Regan, All Points Geospatial Consulting